TOTALLY BLONDIE @ The Horns, Watford
Thursday 10 May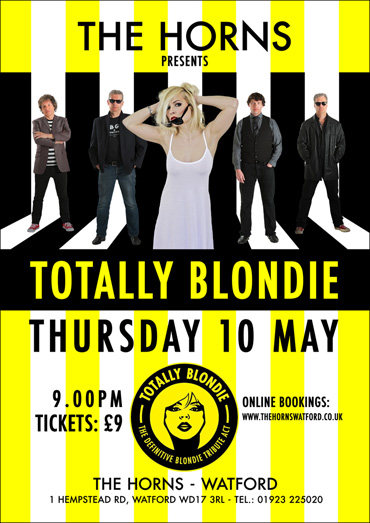 "Totally Blondie" are a bunch of experienced musisicians who are passionate about the music of Blondie and dedicated to doing it right. They cover all the hits and some of the more interesting songs not commonly heard.
Don't miss their firt outing at the Horns!
Tickets £9 - Concert starts at 9pm.
Online bookings: www.list.co.uk/event/928493-totally-blondie
Or call: 01923 225020
The Horns Watford
1 Hempstead Rd, Watford WD17 3RL, Hertfordshire
www.thehornswatford.co.uk

- - -
Aurora Chanson @ Le Nantais Bistro, Hove
Sunday 6 May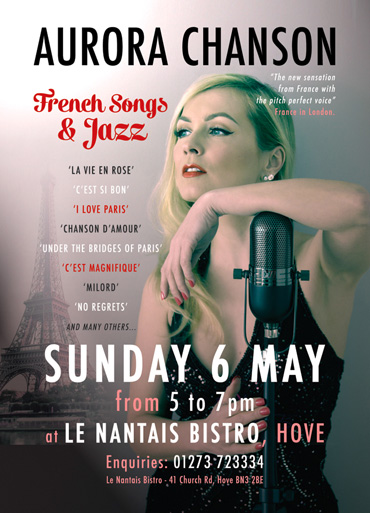 Aurora performs French classics songs of Édith Piaf, Charles Aznavour, Jacques Brel, Charles Trénet at Le Bistro. Free entry - Music starts at 5pm.
Le Nantais Bistro
41 Church Rd, Hove BN3 2BE, East Sussex
Tel.: 01273 723334
www.lenantaisbistro.com
- - -
Aurora Chanson @ The East Beach Café, Littlehampton
Saturday 19 May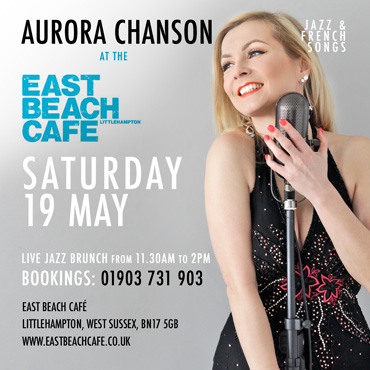 Jazz Brunch from 11.30am to 2pm - Full à la carte with specials. Bookings: 01903 731 903
East Beach Café
Sea Rd,
Littlehampton,
West Sussex BN17 5GB
www.eastbeachcafe.co.uk

A 'formidable' article by Larry Richmond about our sold-out show 'A Night In Paris' at the Pheasantry Pizza Express, published in the May edition of The Beat Magazine: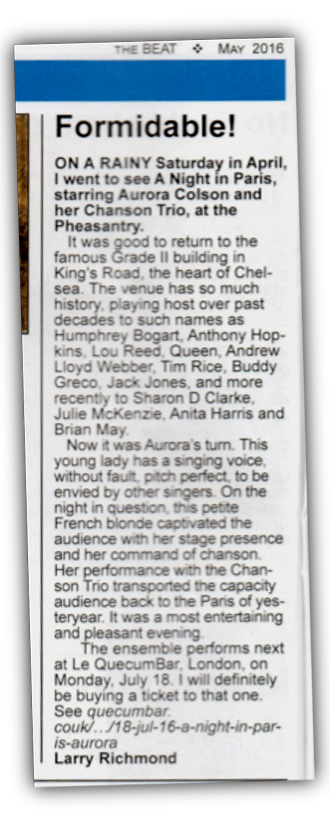 And another flattering review of our Christmas show, by legendary music journalist Alan Clayson, that was published - at last - on page 138 of the present edition of 'Rock 'N' Reel':